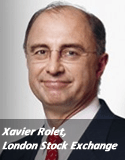 Representatives from the London Stock Exchange, ICAP, Nasdaq and LCH.Clearnet have urged European regulators to reconsider parts of the MiFID II draft relating to open access rules.
In a letter to Steve Maijoor, chair of the European Securities and Markets Authority (ESMA), the four institutions wrote that the rules were crucial to Europe's economic growth.
The open access rules under the new regulation allow participants to clear trades at a central counterparty of their choice, playing into the hands of horizontal clearing house models such as LCH.Clearnet.
The rules, which encourage competition, have not been welcomed by vertical models such as Eurex, CME and Intercontinental Exchange.
While supporting the notion of open access in Europe, the quartet has voiced concerns over the technical standards limiting the 'effectiveness of the access provisions'.
"It is in the interest of the economy of the European Union to ensure that the open access framework comes to fruition through clear, effective and well drafted rules," the letter read.
In the letter, the four firms argue that it should not be possible for a central CCP or trading venue to deny access based on criteria that can be arbitrarily decided by the CCP or trading venue itself.
The four companies also suggest that ESMA should ensure the process to determine economically equivalent contracts for netting by a CCP leads to a harmonisation of standards in the EU, with the right balance in terms of the discretion of a CCP.
The conclusion of the requests calls for a rapid appeal process to deal with disputes over access.
The letter was co-signed by Michael Spencer, chief executive of ICAP, Xavier Rolet, chief executive of the London Stock Exchange Group, Hans-Ole Jochumsen, president of Nasdaq and Suneel Bakhshi, chief executive of LCH Clearnet.