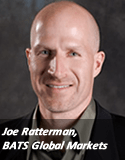 BATS Global Markets CEO Joe Ratterman is stepping down at the end of March after eight years in the role.
Ratterman, who was part of the exchange operator's founding team in 2005, will take up the role of chairman, replacing Paul Atkins. He will be succeeded as CEO by Chis Concannon, who joined BATS as president in December 2014.
Ratterman became CEO of BATS Trading in July 2007 when it was a startup alternative trading system with just 25 employees. He has since overseen its growth to become one of the largest stock exchange operators in the world.
The firm has rapidly expanded in recent years with a series of acquisitions under Ratterman's leadership, including buying Chi-X Europe in 2011, Direct Edge in 2014 and is close to acquiring Hotspot FX, which is expected to formally complete this year.
"We are at a unique point in our company history where we are experiencing high water marks in market share and profitability, and we are also poised for significant future growth and expansion globally," Ratterman said in a statement. "I see this as a good opportunity to change the nature of my role at BATS and take on the chairman responsibilities, and I'm pleased to pass the baton to a leader as qualified, talented and dedicated as Chris."
Concannon has 20 years of experience as an exchange executive, including six years as executive vice president at Nasdaq, where he was in charge of its US stock and options markets. His most recent role was president, chief operating officer and partner at market maker Virtu Financial.
Ratterman will continue to represent BATS as a member of the SEC Equity Market Structure Advisory Committee and will assist with the transition as well as his role as chairman.