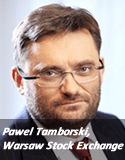 Warsaw Stock Exchange (WSE) Group saw profits increase by more than 14% in 2014 after achieving a record high in revenues, driven by activity on its commodities market.
Full year revenues reached PLN 317.6 million ($86.5 million), up 11.9% compared to 2013, with operating profit growing to PLN 135.4 million.
However, the Group's financial market, which represents almost two thirds of its income, shrank by 2.6% over the year to PLN 200 million.
Its commodities market saw a major boost in business, up 50.6% year-on-year to PLN 114.5 million.
Pawel Tamborski, CEO and president of the WSE management board, said: "In 2014, which was not an easy year, we generated solid financial results which prove that our fundamentals are sound and that we have a potential of further growth of business. The results also prove that a focus on the core business of developing the trading platforms is the right business decision."
The exchange operator also revealed it is planning to open a new commodity-based financial market within twelve months, with electricity futures set to be its debut project.
Polish Power Exchange will operate the new market.
"Further development of the commodity market is one of the key elements of the WSE Group's strategy for the coming years," added Tamborski. "We are glad that the work on the launch of the market in financial derivatives based on commodities is well advanced."