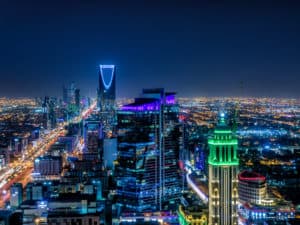 The Saudi Tadawul Group, which operates the stock exchange in Saudi Arabia, has signed an MoU with Hong Kong Exchanges and Clearing (HKEX), the Hong Kong exchange operator, to cooperate in a number of areas including fintech, ESG and cross listings as well as "a number of other areas of interest to both exchanges".  
The relationship between the two economies has been stepping up recently, as international fund flows shift towards emerging markets amid the current geopolitical and economic climate. The latest agreement is part of a slew of bilateral agreements in the fields of finance, business and technology signed by Hong Kong Chief Executive John Lee Ka-chiu on the first day of his state visit to Saudi and the UAE, taking place this week. The Hong Kong leader confirmed that Hong Kong and Saudi Arabia were "entering a new level of cooperation".  
Hit hard by Covid and with notably increased oversight from China that has created some tensions around both its political and economic position, Hong Kong has struggled to redefine its position as a global financial hub. With its economy contracting by around 3.5% last year, the territory is seeking to attract new inflows – and the Middle East is a prime target.  
A historically strong listings location, Hong Kong Exchange has seen its focus turn increasingly domestic – with the vast majority of its market cap now dominated by mainland Chinese firms. In a bid to diversify, the exchange is reaching out to attract new cross-border listings – such as oil giant Saudi Aramco, with whom Lee is reportedly in talks this week. The firm first went public on the Saudi Exchange in 2019 in a $29.4 billion IPO, one of the most successful in history – capturing its secondary listing would not only be a feather in Lee's cap but create a valuable precedent that could carve a path for further Saudi/Hong Kong cooperation.  
"The Kingdom of Saudi Arabia, and the broader Middle Eastern region, are one of the world's most dynamic and exciting economic and innovation hubs and also home to some of the fastest growing investor groups in the world," said HKEX CEO Nicolas Aguzin, commenting on today's MoU.  
"Hong Kong and HKEX's markets offer significant opportunities for international investors and corporates, including unrivalled connectivity to the Mainland Chinese markets through our unique Connect programmes. This agreement signals the beginning of even greater collaboration between our companies and our home markets, and we look forward to exploring many future areas of cooperation." 
Khalid Al Hussan, CEO of Saudi Tadawul Group, said: "As we seek to position the Saudi capital market as an investment hub between East and West, we are seeing increased interest from issuers and investors in Asia. This MOU brings us one step closer towards enabling cross listings and other areas of collaboration between Saudi Arabia and Hong Kong. With global capital markets evolving, it is moreover important for us to work together to exchange information and align on best practice to elevate our capital markets and enhance the experience for issuers and investors alike."