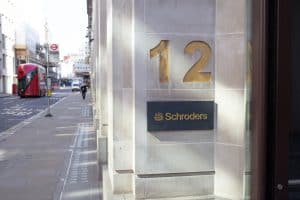 Schroders has appointed its new head of equities as Nicky Richards prepares to step down from the leadership position after four years to take on an advisory role.  
The asset manager confirmed that Rory Bateman will take on the role as of March next year, while Richards, who previously managed the £173 billion business, becomes a senior advisor.
Bateman has been head of the UK and European equities team since 2013, and was formerly a co-manager of the SISF European large cap fund at Schroders, which currently manages more than €45 billion on behalf of clients.
"The key to Schroders' success in equities under the stewardship of Nicky has been our strong team culture across the respective desks, underpinned by our robust investment processes," Bateman commented.
"These solid foundations will stand us in good stead as we move into a dynamic period for our industry. Active asset management and the delivery of outstanding investment performance for our clients is going to be more important than ever before. I look forward to evolving our equity business to ensure we remain a global leader in the years ahead."   
Richards has been running the equities investment operations globally at Schroders after he re-joined the firm in 2014. The asset manager added that she will use her knowledge and experience to mentor the leaders and managers across the group in her new role.  
"It has been a privilege leading Schroders' global equities teams and working with such great talent over the past four years," Richards said. "I am excited to continue working with Schroders' as a special adviser to mentor and advise Schroders' leaders and managers."
Schroders added that the leadership shuffle, which will entail a comprehensive handover, underpins its commitment to developing and promoting in-house talent with the aim of better serving its clients. The firm plans to promote someone in-house to take on Bateman's previous role, which will be announced next year.