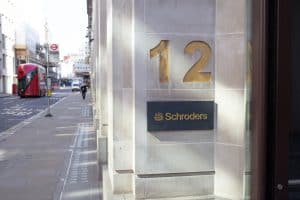 Global investment management giant Schroders has overhauled its MiFIR transaction reporting processes with SteelEye's compliance technology platform.
Speaking to The TRADE, SteelEye chief executive, Matt Smith, revealed that the implementation of the SteelEye system at Schroders took three months and was completed in July. This included product demonstrations, due diligence, testing, legal discussions, and onboarding.
Schroders, which has over £500 billion in assets under management and operates across 34 locations, confirmed it selected SteelEye due to the firm's ability to support its tight implementation deadline.
"The SteelEye implementation has helped us to improve the level of control and accuracy we have around our MIFID II transaction reporting," said global head of operations at Schroders, Keith Frimpong. "We selected SteelEye because of the quality of their technology, the expertise demonstrated by their team, and their willingness to support our tight implementation timelines."
Smith added that the firm's technology sets it apart from the competition, with no need for new clients to change back-office, trading, or front-office trading systems.
"We can ingest their data from whatever platforms they are using, unifying it in one place where it can be natively used within SteelEye's RegTech suite," he said. "This enables clients to meet regulatory obligations whilst gaining unparalleled value from data that would otherwise be spread between different platforms."
SteelEye's platform looks to provide clients with full visibility of their MiFID II transaction reporting workflow through improved eligibility checks, analytics on rejection handling, data validation rules, transaction editing capabilities, audit trails, and automatic submission schedules.
"Our aim is to improve the quality of MiFID II data. Many firms have misreported or over and under-reported under MiFID II/EMIR due to the complexity of the regulations," SteelEye's Smith added. "By ensuring that the underlying data is accurate, firms will report more accurately which means that the widely available MiFID II data will be better."
Earlier this month, SteelEye appointed a MiFID II product expert and former 12-year veteran of Bloomberg as its new chief operating officer. Rob Friend joined SteelEye in the executive role after departing Bloomberg in August last year. His appointment came as part of the firm's planned expansion into the US and Asia Pacific.