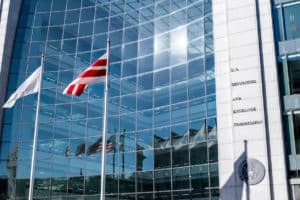 The US Securities and Exchange Commission (SEC) has denied a proposal from Cboe Global Markets to introduce a four-millisecond delay on its equities exchange.
The controversial speed bump was opposed by some of the markets most active participants, including Citadel Securities, BlackRock, T.Rowe Price and industry lobby groups representing mutual funds, hedge funds and high frequency traders.
The SEC stated: "The commission concludes that the proposal is discriminatory and the exchange has not demonstrated that the proposal would not be unfair. The exchange has not demonstrated that the proposal is sufficiently tailored to its stated purpose, which is to improve displayed liquidity."
Under the Cboe proposal, liquidity-taking orders sent to its EDGA exchange will have to wait four-milliseconds before trading with resting orders in the order book. It said this will provide market makers with sufficient time to re-price their rusting orders before 'opportunistic' or high frequency traders can trade with them at old prices.
"Cboe will remain committed to enhancing the US equity markets for all participants, and will continue to work closely with our regulators and industry to develop innovative products that benefit the marketplace," Cboe said in a statement.
The proposal was set to be the third implemented by a major US exchange after IEX and NYSE American deployed their own speed bumps. However, Cboe said at the time of the plan that these mechanisms do not provide protection to market makers and participants that post two-sided markets, whereas its Liquidity Provider Protection feature would promote price forming displayed liquidity.
NYSE American also scrapped its speed bump in November last year, and instead implement a floor-based designated market maker scheme. 
However, opponents to the Cboe plan argued the speed bump would create unfair advantages for the fastest players, while at the same time, leaving mutual funds to be hit by orders.
The Investment Company Institute, a trade group that represents mutual funds managing more than $25 trillion in assets, wrote in a letter to the SEC that the speed bump would establish a "harmful precedent" by penalising slower market participants.