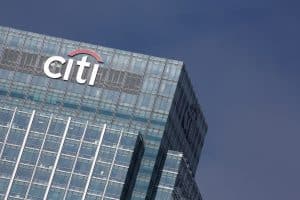 Citigroup has been fined a total of $10 million by the US financial regulator in two enforcement actions, one of which related to a $81 million loss made by three of its traders.
The Securities and Exchange Commission (SEC) said that Citi has agreed to pay $5.75 million to settle the first charge of inaccurate records and insufficient trader supervision after three traders mismarked illiquid positions in proprietary accounts they managed.
Citi fired the traders involved after the $81 million loss was discovered, but the SEC said that the company did not have adequate supervisory procedures in place during the period between 2013 and 2016, and failed to detect the traders' misconduct.
The US investment bank was also served with a second $4.75 million fine to settle charges that it failed to maintain adequate internal accounting controls.
Between 2008 and 2014 a Mexican subsidiary of Citi loaned around $3.3 billion to a company based on invoices and work estimates for services that the firm provided. However, the SEC said that the estimates were fraudulent and the bank lost around $475 million as a result.
The regulator added that Citi lacked the controls necessary to verify the invoices and work estimates before making the loan, and "ignored numerous red flags" related to the company in question.
"Today's charges reflect the Commission's view that Citigroup fell short of its obligations to supervise its traders and maintain appropriate controls to guard against fraud," said Marc Berger, director of the SEC's New York regional office. 
"Citigroup's lax supervision and weak internal accounting controls allowed a handful of rogue traders to mismark positions over several years and, separately, resulted in the unnecessary loss of hundreds of millions of dollars of its shareholders' assets to fraud."
Citi settled both charges with the SEC with a total $10 million fine, without admitting or denying its findings.