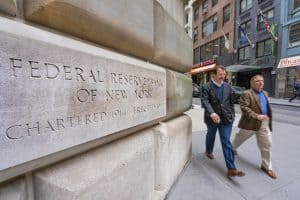 The chief information officer at the US financial watchdog will step down from her position to take up the same role at the Federal Reserve Bank of New York.
Pamela Dyson first joined the Securities and Exchange Commission (SEC) in 2010 as an assistant director for enterprise operations, before being appointed CIO in February 2015.
During her time in the role, Dyson oversaw several major projects. She was responsible for establishing the regulator's cloud capabilities with Amazon Web Services, developing its IT strategy and innovation programme for the SEC's digital transformation efforts, and supporting an agency-wide cyber uplift programme.
"[Dyson's] leadership and experience have been critical to maintaining the information technology capabilities we need to fulfill our mission while ensuring we address ever-evolving cyber threats," said SEC chairman Jay Clayton. "I thank her immensely for her service to the Commission and to America's investors."
Dyson is set to join the Federal Reserve Bank of New York on 1 October as head of the technology group and chief information officer, overseeing the bank's IT and delivering technology services.
Michael Strine, first vice president and chief operating officer of the New York Federal Reserve Bank, commented that Dyson brings a great deal of public sector experience, IT expertise and a track record of innovation.
"Having spent the majority of her career in government, she has a keen understanding of how to navigate complex environments and a commitment to data security. I am confident that she will add value to our mission and I look forward to working with her," he added.