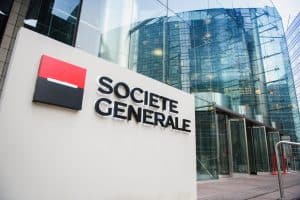 Société Générale will pay a total of $475 million to settle charges for manipulation, attempted manipulation and false reporting of Libor and Euribor benchmarks.
The Commodity Futures Trading Commission (CFTC) found that the investment bank's misconduct  in connection with the London Interbank Offered Rate (Libor) for US Dollar, Yen and Euro, and the Euro Interbank Offered Rate (Euribor) spanned six years, from 2006 to 2012.
From 2010 through to mid-2012, Société Générale made false reports of US dollar and Euro Libor and Euribor to protect its own reputation from speculation that it was struggling to borrow unsecured funds, according to the CFTC's inestigation.
During that period of time, Société Générale was exposed by the market strain due to the Greek sovereign debt crisis, but false reports were made at the direction of members of executive management, including the chief financial officer and global head of treasury, the CFTC said, while other false reports were also made by the bank concerning US Dollar, Yen and Euro Libor and Euribor to manipulate the benchmarks to benefit from certain trading positions.
"During the course of these Libor investigations, we have seen some market participants knowingly make false reports in an effort to increase their trading profits or misrepresent their financial health," said James McDonald, CFTC director of enforcement.
"But we also have seen the Commission and its staff work tirelessly to identify this misconduct, root out the bad actors, and to ensure those responsible are held accountable."
The CFTC added that Société Générale continued to make false reports and and engage in misconduct despite knowing that the authority was investigating the bank's Euribor and Libor submission practices.
Lack of internal controls, procedures and policies around Libor and Euribor submission processes, alongside overall failures to supervise the money market and derivatives trading desks, allowed the misconduct to occur, the CFTC concluded.