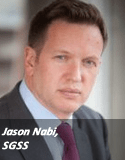 Jason Nabi has joined Societe Generale Securities Services (SGSS) as head of financial institutions and brokers in the UK.
Nabi takes on the newly created position having joined from Markit's asset servicing business, where he led its strategic development. Prior to joining Markit in 2012, Nabi was chief relations officer at BNY Mellon Pershing abd was previously responsible for building BNP Paribas' broker-dealer outsourcing and financial intermediaries business in the UK.
He has over 25 years of experience, having started his career as a trader on the floor of London Stock Exchange in 1987.
He will report to Guillame Heraud, SGSS's global of business development for financial institutions and brokers. Nabi will be responsible for leading business development for what Societe Generale describes as "an important client segment" in the UK. 
"Jason Nabi is joining the SGSS team at an important time. With investment in our business and strong ambitions, SGSS is well placed to be a leading force, not only in the UK but in other key markets," said Bruno Prigent, global head of SGSS.
The firm plans to deliver a range of integrated client solutions from execution to custody and will extend middle-office support for brokers, banks and financial institutions.
SGSS has €3,609 billion of assets under custody and provides custody and trustee services for 3,229 funds and the valuation of 4,057 funds, representing assets under administration of €500 billion.