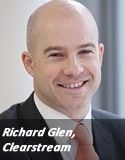 Asia-focused bank Standard Chartered is partnering with Clearstream to allow mutual clients to place holdings into a single collateral pool, ahead of OTC derivatives rule changes.
The Global Liquidity Hub, a solution provided by post-trade services and global liquidity provider Clearstream, allows clients to mobilise holdings for collateral management purposes when trading OTC derivatives, while leaving them in the custody of Standard Chartered.
The partnership was announced with a letter of intent, signalling the development of a customised service for the benefit of mutual clients as new regulatory reforms start to take hold.
Under both the European market infrastructure regulation and the US Dodd-Frank Act OTC derivatives trades need to be reported and centrally cleared, meaning collateral must posted with central counterparties to complete standardised OTC derivatives transactions. The new requirements to post eligible collateral to support margin requirements is a particular challenge for institutional investment firms whose portfolios do not necessarily contain assets outside the criteria set by clearing houses.
Stephen Pemberton, global product head of brokers and investment banks, transaction banking, at Standard Chartered, said there was a need for clients to move assets quickly and efficiently to fulfill new obligations.
"They are going to have to use assets which they hold on their book to post to a third party and therefore those assets are going to be removed from the fund or available inventory or balance sheet of the client.
"We need to provide a capability to our clients across our footprint market - the regions of Asia, Africa and the Middle East - which allows us to take away some of the operational pain of posting collateral to a multitude of different counterparties."
With the Global Liquidity Hub, mutual clients will be able to mobilise assets from one source to the "right place, at the right time, on a real time basis. It allows them to do this without having to invest in significant additional infrastructure or post-trade operational costs," Pemberton said.
Richard Glen, head of sales for UK, Ireland and Americas for Global Securities Financing at Clearstream, said clients would have the ability to mobilise assets within a tri-party repo programme and recall them back to the domestic sub-custodian.
"The critical part of this is that it operates in real time. What it means is that we are constantly getting refreshes and updates over the domestic market movements taking place in the local time zone," he said.
"In essence, what you then have is a series of asset movements back and forth … this results in a natural optimisation of inventory."
Standard Chartered is the third institution to join forces with Clearstream, following Citi and BNP Paribas Securities Services.
"Working together with the domestic sub-custodians in this way is a win-win situation," Glen said, as it also allows us to help clients get access to more inventory.
International clients who hold assets worldwide would still retain the relationship with Standard Chartered for local activities, but they could also use assets they may hold in other Liquidity Hub participants or within Clearstream worldwide, he added.
Clearstream is the international central securities depository owned by Deutsche Börse Group.