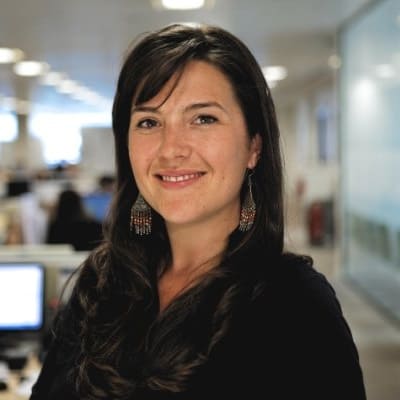 Hayley McDowell: What's new at TradeTech this year?
Susie Benaim: The burning question at the moment is really what's happening with MiFID II. In the past everything has been very theoretical and now it's all about the practical implications and ramifications of what the regulation will mean for organisations as a whole, but for those attending TradeTech, the front office operations. There is much more of a focus on regulation and it's overall impact.
I have really tried to incorporate more closed-door sessions on the programme this year. What I find - especially for the more senior attendees - is that smaller groups and workshops are the most valuable. So this year, I've incorporated two new workshops. One will look at commission management and changes in research payment models, and the other will focus on blockchain technology. I have also added a buy-side and sell-side collaboration session. I think one of the big questions is how will the two sides of the market work better together. It's a basic question but both sides of the market are changing substantially, so having a session for the top ten buy- and sell-side firms to debate this progression, is new for this year.
I have also added more afternoon sessions looking at very specific topics like best execution and monitoring and another looking at strategies around trade enhancement and trade performance, for example new areas like quant execution. New for this year, we've got a brand new accelerator track looking specifically at best–in-class technology, how to leverage and integrate these into your current platform suite. Regulation is the number one theme, but addressing these topics in an interactive and engaging way, though formats like oxford style debates and roundtables, Is what our attendees find the most valuable.
HM: Who are giving the keynote addresses this year and what will they be talking about?
SB: On the morning of the first day, we have two key regulators, the chair of the AMF - the French regulator - as well as the board director of the AFM - the Dutch regulator. They will be talking respectively about how they are striving for a more coherent European approach to drive market liquidity and stability. From a market practice perspective, we have an opening interview with the long-only asset manager, Allianz, and the leading hedge fund GLG Partners. Their global heads of trading will give an interview about creating an agile and responsive desk in the run-up to MiFID II. So, we can hope to hear a real practitioners overview of preparing for MiFID II.
I am really excited about another keynote speaker we have this year. We have the Rt Hon Nicky Morgan, a prominent MP who has been very involved in the Brexit negotiations. She will be talking about where we are with Brexit, what some of the negotiations look like and give an insiders opinion on how that will impact the financial market. I think Brexit - especially given the time of the event - will be front of mind for attendees.
HM: What are the key themes for this year's conference?
SB: Besides looking at MiFID II from a best execution reporting and evidence perspective, changes to payments of research and also of the development of multi-asset desks. So we will hear from participants that already have a desk that caters for multi-asset, discussing how they started this and what the challenges are with running that desk. Other key themes will be around market fragmentation and the challenges of liquidity- all themes that are on-going, but still very prominent.
We will also look at saving costs through the streamlining of operational processes. There has been a lot of discussion about automation, artificial intelligence and leveraging technologies in that space. This all feeds back in to how to remain compliant under regulation. Another topic we will explore is finding best-in-class technology. TradeTech is a very strategic conference looking at macroeconomic changes in the equities in Europe, but obviously technology developments for the front office trading is a major part of our programme. There is a plethora of new technologies coming into this space, with a boom in Fintech and Regtech providers, so looking at how to go about evaluating these and whether these platforms and companies are actually adding value is a key theme for 2017. We will also look at the revaluation of the trading value chain and the increasing pressure on brokers. When developing the programme this year, a prominent theme was how are brokers managing pressure to add value, re-evaluate their products and services. There is a special challenge for mid-market brokers who are having to fight against the bulge brackets, and the smaller specialist players.
HM: How does TradeTech try to keep fresh and relevant to its audience?
SB: Despite it being an annual event, as the conference director I have a very strong advisory board and I really look to make sure that on a face-to-face basis I am keeping in touch with my advisors. That is the most important thing for me. With that, a lot of the board are long-term contributors but I like to keep it fresh too. Over recent years has been a lot of movement in new global heads and European heads positions on both the buy and sell side. From a talent perspective, people are shifting and changing jobs so I'm always looking to get new people onto the advisory panel to understand what is new in the market and get a new perspective.
We have also a very strong community from a marketing perspective and a large database of market participants to get in touch with. We conduct surveys, interviews and meetings to understand exactly what they need and how the market is changing. Most importantly, we want to make sure TradeTech is offering something fresh and unique that can't be gained elsewhere. From a programme point of view, I am constantly looking to get new speakers and companies that are doing something different each year.
HM: What sessions are you particularly looking forward to?
SB: There are three sessions I am particularly looking forward to this year. One of the top themes this year, which feeds into best execution and evidencing is that of data and how to be smarter with it given the increased volumes now collected by the market. There is a gentleman who is one of our guest keynote speakers called Jeff Jonas who is a data wizard and a former IBM fellow. He is very well known for developing systems that have detected fraud at casinos in Las Vegas, geospatial events and terrorist attacks. There have been a couple of films actually based on the technologies he has developed, '21' and 'Bringing Down the House'. He will be talking about how to be smarter when analysing data, and how to visualise is- all challenges that the buy and sell side are addressing at present.
Another out-of-industry speaker we have this year is the real-life 'hurt-locker'. The film was based on Major Chris Hunter, and he will be talking about performing in a high-pressure environment and drawing on his experiences as an Iraqi bomb-disposal expert.
Considering the boom in the RegTech and FinTech space, we have also got a new session this year, which is a tech show down. This will include an expert judging panel to examine five FinTech companies, all of which are offering different products ranging from analysis software to trader behaviour tools. They will give an elevator pitch and the audience will vote on which product they believe will have the biggest impact and influence on the equity trading landscape.
HM: The TRADE recently ran a special 'women in trading' feature. How is TradeTech this year looking to represent women in the industry?
SB: Recently I have noticed a lot of women coming into the COO role, which is progressively becoming a more important role when it comes to evaluation of technology and compliance tools to implement MiFID II. More women have been attending the conference particularly for that. We are also running our women in trading think tank for the second time . This provides a platform for women in this space to discuss challenges in the market, share experiences and gain inspiration from each other. I think it's clear there are still some major prejudices and challenges for women in this space, so a platform like this is vital. The response when we ran this last year was fantastic. We had close to 40 people attending and we are looking to grow that this year.
HM: Finally, any Paris restaurant recommendations for attendees during the conference?
SB: If you're looking for something super fancy, there is a fantastic restaurant called Le Jules Verne at the top of the Eiffel Tower. But also the Saint Germain area in Paris is lovely and has some great bistros. If you fancy some steak and red wine, that is where I would suggest going.