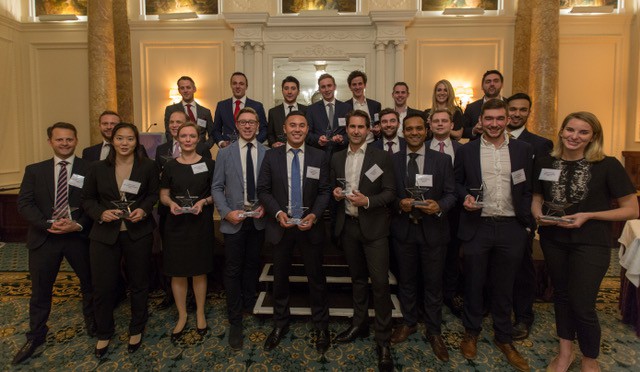 Jonathan Lee, head of credit trading, Hermes Investment Management
Having first joined Hermes Investment Management in 2011 as a trading intern, Jonathan Lee has truly left his mark on the £30 billion asset manager. Shortly after his internship, Lee took on a permanent role as an assistant portfolio manager, before moving on to the fixed income trading desk as a dealer. He was promoted earlier this year and now heads up credit trading at Hermes.
Craig McLeod, head of fixed income dealing, Investec Asset Management
Craig McLeod began his career with Standard Life Investments in Edinburgh, working as an OTC derivatives analyst for two years, before he swapped roles to become a credit trader in 2008. From there, McLeod spent a year as a quantitative portfolio manager and finally departed Standard Life Investments to relocate to United Arab Emirates. He joined the Abu Dhabi Investment Authority as a trader in 2012 before moving back to London in 2016 for a more senior role at another asset management firm. McLeod is now head of fixed income and FX trading at Investec Asset Management.
Joeri Wouters, buy-side dealer, KBC Asset Management
As a senior fixed income dealer at KBC Asset Management, Wouters has built up extensive career expensive throughout his 11 years with the firm. He works on the centralised dealing desk executing bonds, listed and OTC cleared derivatives trades for portfolio managers across various European countries like Poland, Belgium and Czech Republic. Wouters has become a face of the industry, speaking at industry conferences like the Fixed Income Leaders Summit, discussing execution management systems, transaction cost analysis and electronic trading.
Anne-Kirstine Moller, portfolio manager, Legal & General Investment Management
Anne-Kirstine Moller started her career on the sell-side after completing a summer internship in credit derivatives trading at Goldman Sachs in 2006. She joined Goldman Sachs permanently two years later and become an interest rate swaps traders for more than three years. In 2011, Moller joined Legal & General (L&G) investment Management as a Liability Driven Investment (LDI) portfolio manager in active fixed income. She has now been with L&G for more than six years.