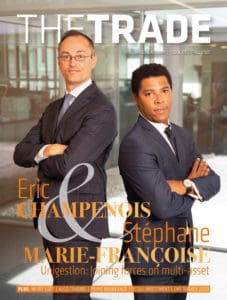 The Fall 2020 issue of The TRADE magazine is now available to read online. As the industry continues to adapt to a new operating environment, delve into the very best content from the latest issue:
Buy-side cover interview – When Unigestion formed a cross-asset solutions team several years ago, Eric Champenois and his team were tasked with evolving the trading desk. Here, Hayley McDowell finds that while the shift to multi-asset operations was challenging, it has since paid dividends.
Retail investment: A force for good or evil? – Following a surge in retail investment amid increased market volatility and the coronavirus pandemic, Annabel Smith unpacks its potential impact on institutional investors and the trading landscape.
Inside Goldman Sachs Electronic Trading (GSET) – GSET executives Daniel Mallinson, David Cornish, and Alex Harman, tell Hayley McDowell about how the GSET platform performed during the market volatility following years of intense investment from the bank, and the bets they are taking on future execution trends.
Human judgement still king in a world of algorithmic trading – Following extreme market conditions at the height of the COVID-19 crisis, David Whitehouse explores how algorithmic trading performed in comparison to other market-moving events, and finds the human touch remains critical.
March madness – Now seen as the month that changed the world, Joe Parsons takes an in depth look at how hedge funds and prime brokers responded to the economic crisis that ensued in March, and what the 'new normal' could for be the HF-PB relationship.
The TRADE's 2020 Execution Management Systems Survey – While providers gained the highest overall average marks in history in The TRADE's 2020 EMS Survey, declines in product development scores suggest the buy-side want more from their vendors when it comes to innovation.