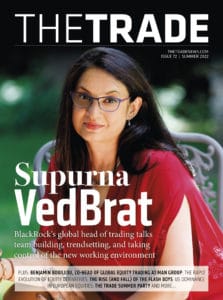 The second quarter of the year has been no less turbulent than the first, and the markets have seen their fair share of volatility. But where there is challenge there is opportunity, and that is the theme running through the latest issue of The TRADE Magazine, which is jam-packed with interviews, insights, features and top news from the past quarter.  
It's a bumper buy-side issue this quarter, and we were delighted to talk in depth to Supurna VedBrat, global head of trading at BlackRock, to explore her varied and versatile caree. We also have a detailed discussion with Benjamin Bouillou, co-head of global equity trading at Man Group, who dives deep into the firm's outlook on automation, execution, and the evolution of algorithmic trading. Our features this quarter range across the board from a Flash Boys history lesson to an exploration of the European equities landscape, we've got the hotly-anticipated TRADE 2022 Algorithmic Survey… and don't forget to take a look at the photos from The TRADE summer party!  
Take a look below for more detail on Q2 content:  
Buy-side cover interview – Supurna Vedbrat, BlackRock's global head of trading, dives deep into discussion with Laurie McAughtry to discuss how she structures her day, develops her desk and designs her plans for the future. 
The evolution of equity derivatives – Given the latest developments for the asset class in today's unprecedented climate of volatility, Wesley Bray looks at how equity derivatives have evolved over the years – and how the big European exchanges are battling it out to differentiate themselves in the current competitive marketplace. 
European equities: The American dream? – As the European equities landscape becomes increasingly bloody and the largest US banks continue to dominate, Annabel Smith explores why European banks struggle to profit on their own turf and, if the Bloc were to need a home-grown champion, who it could be. 
The Big Interview – Benjamin Bouillou, co-head of global equity trading at Man Group, sits down with The TRADE editor Laurie McAughtry to outline his vision for the trading desk of tomorrow – including how best to segment the flow, how to leverage new sources of liquidity, and how to improve performance by improving knowledge. 
ETFs & CCP: on the right track – The global exchange traded fund (ETF) market has seen extraordinary growth since its inception almost 30 years ago, with the range of ETF products growing increasingly diverse and complex. In Europe, a high rate of settlement failures and general inefficiency in the market has meant there has been a drive to bring more ETF trades through central clearing, providing greater risk mitigation and operational efficiency. But is enough being done to facilitate that switch? Chris Lemmon reports. 
The TRADE's 2022 Algorithmic Trading Survey – Results from The TRADE's 2022 Algorithmic Trading Survey reveal that while execution quality remains top of mind for hedge funds, additional features desired include further customisation capabilities, more control, deeper dark aggregation and increased reduction of market impact. 

Read the full edition here.