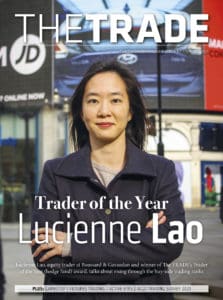 The Spring 2021 issue of The TRADE magazine is now available to read online. Delve into the very best content from the latest issue:
Buy-side cover interview – Winner of The TRADE's coveted Trader of the Year (hedge fund) award and equity trader at Boussard & Gavaudan, Lucienne Lao, tells Hayley McDowell about rising through the buy-side trading ranks and grappling with never-before-seen market volatility.
The Reddit Revolt – Following the explosive events surrounding GameStop in January, Annabel Smith unpacks the role of social media in this cautionary tale and its impact on institutional investors.
Machine learning futures algo trading surges at JP Morgan – Peter Ward, global head of futures and options electronic execution at JP Morgan, tells Hayley McDowell that buy-side adoption of its reinforcement learning FICC futures algorithms has surged in recent years.
Active ETFs: Europe has a way to go – As Europe is yet to see the significant uptake in actively managed ETFs that the US market has experienced, Annabel Smith asks why that is and how active ETFs operate.
Clearing post-Brexit – Following the UK's official exit from the EU single market, regulators on both sides of the Channel appear to be splitting on post-trade regulations. What are the potential consequences for this on the post-trade industry, asks Joe Parsons.
LiTDX: Behind the scenes – Multimedia reporter, Kiays Khalil, takes readers behind the scenes as the editorial team presents The TRADE's flagship Leaders in Trading 2020 awards online for the first time through a five-day, on-demand digital experience.
The 2021 Algorithmic Trading Survey – As the percentage of funds trading via algos continued to rise, the long-only results of The TRADE's Algorithmic Trading Survey 2021 reveal that traders relied on tried and tested VWAP and TWAP strategies during the market uncertainty.