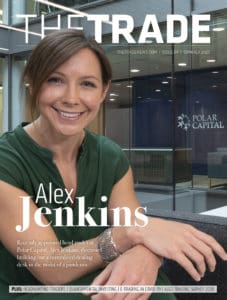 The Summer 2020 issue of The TRADE magazine is now available to read online. As the industry continues to adapt to a new operating environment, delve into the very best content from the Summer 2020 issue:
Buy-side cover interview – As head trader at Polar Capital, Alex Jenkins has been establishing a centralised trading desk. In this interview, Hayley McDowell discovers that the move has proved invaluable for the investment firm amid a surge in market volatility.
Working on the weekend – David Mercer, CEO of LMAX Group, tells Kiays Khalil that the launch of LMAX's new weekend currency trading service could lead to 24/7 spot trading within the next five years.
Quantamental investing – Although a relatively new trend on the buy-side, David Whitehouse finds that combining quantitative and fundamental investing strategies for a so-called quantamental investment strategy could prove valuable to active fund managers navigating a world grappling with a pandemic.
What happened to e-trading in fixed income? – Following a spike in volatility due to the coronavirus pandemic, Hayley McDowell looks at how bond traders handled the changing market environment amid research suggesting e-trading fell apart in some markets.
Headhunting: the rise of the post-MiFID II trader – As the investment industry continues to grapple ongoing headwinds, Hayley McDowell speaks with senior recruiters and consultants to explore how the talent landscape has changed for buy-side traders in recent years.
The 2020 Algorithmic Trading Survey – Results from The TRADE's 2020 Algorithmic Trading Survey reveal that hedge funds are increasingly using algos to reduce market impact, as the buy-side continues to focus on trade performance and price efficiency.