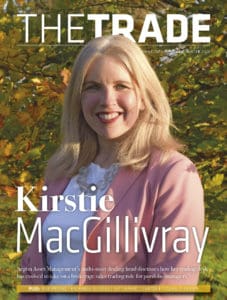 The Winter 2020 issue of The TRADE magazine is now available to read online. As the industry continues to adapt to a new operating environment, delve into the very best content from the latest issue:
Buy-side cover interview – Head of multi-asset dealing at Aegon Asset Management, Kirstie MacGillivray, tells Hayley McDowell about how her dealing desk has evolved and adopting a brokerage sales trading role for portfolio managers across all asset classes.
Risky business: the changing face of risk during the pandemic – Following a collapse in risk pricing and models during the market disconnect in 2020, Annabel Smith explores the ripple effect in the cash and futures markets.
Blackout 2020 – Major markets globally have suffered outages in 2020. Hayley McDowell considers whether exchanges should be doing more to ensure markets operate efficiently and without disruption.
Rethinking equities at Cantor Fitzgerald Europe – Following growth in the US operations over the past few years, head of European equities at Cantor Fitzgerald, Talat Khan, tells Hayley McDowell that adding new talent from major institutions during 2020 has helped bolster the institution's position in the market.
A migration: transitioning from the sell-side to the buy-side – While exploring career moves across the industry, Annabel Smith uncovers that compensation, juniorisation and automation are key forces behind the decision to move from the sell-side to the buy-side.
By failing to prepare, you are preparing to fail – It's time for the front-office to pay attention to settlement fails, writes Jonathan Watkins. Regulation is incoming and the costs and complexities are set to rise meaning this process will have a significant impact on traders.
The 2020 Prime Brokerage Survey – Despite the market turmoil in 2020, the COVID-19 pandemic does not appear to have strained prime broker and hedge fund relationships.