With an industrialised, tech-heavy and highly competitive economy, Taiwan has delivered a base of strong human capital, R&D and innovation capability that is set to bring new opportunities for investors. Under the government's "5+2 Industry Innovation Plan", the island's economy increases its weights and furthers its development in the fields of biotechnology, defence, green energy, and intelligent machinery, among others.
In this context, the biotechnology and medical care industry in Taiwan, is seeing rapid growth in revenue, a steady stream of exchange listings and a significant level of market capitalisation. Over the past two years, overall trading value of biotech and medical stocks listed on both Taiwan Stock Exchange (TWSE) and Taipei Exchange (TPEx) increased by almost 50%, making it the third largest industry group by trading value in Taiwan's stock market, which was next only to electronics and finance sectors. Through public-private sector partnerships, Taiwan's biotechnology industry was named as the second most competitive in Asia in the 2019 Emerging Markets Biotechnology Competitiveness and Investment (BCI) Survey.
With growth comes the need for hedging
As Taiwan biotech industry's international competitiveness and momentum continue to build, so is investors' demand for hedging and trading opportunities. On June 8, in collaboration with Taiwan Index Plus (TIP), Taiwan Futures Exchange (TAIFEX) will launch TIP Taiwan Market Biotechnology and Medical Care Index Futures (TIP Taiwan BIO Futures) – an instrument that will enable investors to gain exposure to Taiwan's fast-growing and attractive biotech industry.
While traders interested in the Taiwan market have long focused on its major stock index – TAIEX, sector investing has also grabbed the attention of investors both large and small, since huge capital infusions have been drawn to biotech issuers as a result of new pharmaceutical drugs and products. In particular, Taiwan's biotechnology sector is attracting increasingly more interests, as the nation is one of the countries ahead in the research and development of rapid test kits and vaccine for coronavirus. Created to help investors benchmark performance in Taiwan's biotech sector, The TIP Taiwan BIO Index at present consists of 52 biotechnology and medical care companies listed on TWSE and TPEx.
Without strong correlation to TAIEX and TPEx Stock Index, the TIP Taiwan BIO Index distinguishes itself from underlying indexes of TAIFEX's products, offering various trading opportunities for traders and hedgers.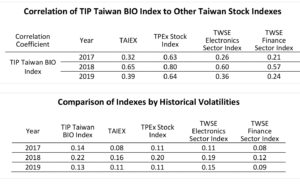 Featuring a small contract size and a low threshold for trading, TAIFEX's TIP Taiwan BIO Futures provides risk management and investing opportunities for professionals and individual investors, thereby offering a way to gain exposure and transfer the risks related to Taiwan's biotech sector.
Launch of biotech and ESG caps off a strong start to the year
Alongside TIP Taiwan BIO Futures, TAIFEX will also launch TAIFEX FTSE4Good TIP Taiwan ESG Index Futures to help investors incorporate ESG (Environmental, Social and Governance) investing objectives into their portfolios. This will provide a new and indispensable trading tool for Taiwan's billion-dollar ESG investment market, while also addressing the growing demand for socially responsible investing around the world.
2020 has been an active year for TAIFEX – in Q1 2020 and amid market uncertainties, TAIFEX traded close to a total of 100 million contracts, marking a 69% growth YoY and averaging over 1.7 million contracts in daily trading volume. With these two contracts, TAIFEX is expected to mark an outstanding year in 2020.
SPONSORED BY