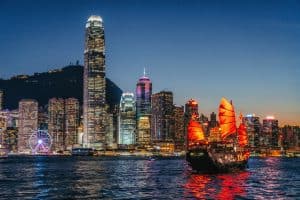 Electronic trading specialist Tradeweb has rolled out a series of new features, including prices streams and a new messaging service, for clients accessing the Bond Connect initiative to trade Chinese bonds.
Tradeweb said that Bond Connect dealers will be able to contribute disclosed live streaming liquidity across tradeable bonds in the Chinese Interbank Bond Market (CIBM) to increase pre-trade transparency and improve counterparty selection processes. 
Clients can then view and access dealer pricing and inventory, with the option to view the five most competitive prices in an instrument for a clearer indication of where the market is.
"In addition to pre-trade allocation, clients trading Chinese bonds on Tradeweb benefit from improved price discovery, access to a deep pool of liquidity, and operational efficiency thanks to end-to-end electronic workflows," said Lee Olesky, CEO of Tradeweb. "As the market reacts to China's inclusion in global fixed income benchmarks, these latest enhancements on the Tradeweb Bond Connect platform position us as the complete solution for offshore investors trading domestic bonds."
Tradeweb is also the first Bond Connect trading platform to launch a single sign-on to the China Foreign Exchange Trade System (CFTES) iDeal instant messenger, allowing for communications between offshore asset managers and onshore dealers prior to submitting request for quote (RFQ). 
"We are focused on providing our Bond Connect customers with the same innovative tools, flexible protocols, and streamlined experience they are accustomed to when trading other institutional asset classes on our platform," Enrico Bruni, head of Europe and Asia business at Tradeweb, added. "Thanks to our early involvement in the design and implementation of Bond Connect, we have formed a deep understanding of the Chinese bond market and amassed a significant level of local expertise."
The Bond Connect initiative was established by CFTES, the National Interbank Funding Centre and Hong Kong Exchanges and Clearing, allowing overseas funds to buy onshore bonds through Hong Kong.
Tradeweb became the first trading venue to provide access to Bond Connect, after connecting with the CFETS to become the main trading interface for offshore investors using the trading link. Institutional investors are able to trade directly with Mainland Chinese liquidity providers in the CFETS market using Tradeweb's trading platform.
The liberalisation of China's trillion-dollar financial markets presents an enticing opportunity to global investors. But what's your view? Tell us your perspective and find out what other readers of The TRADE think of these new opportunities.