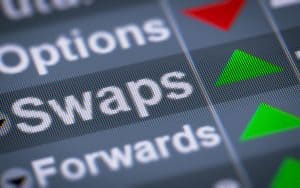 Post-trade derivatives services provider TriOptima has completed the first cleared inflation swap compression at LCH SwapClear.
The firm completed the compression run of Euro cleared inflation swaps through the triReduce service on 19 July, and it plans to go live with Sterling and US Dollar cleared inflation swap compression at LCH soon.
Compression allows traders to remove bilateral trades across mismatched cash flow dates, and offset trade populations in order to reduce the size of the cleared portfolio of OTC derivatives. To manage capital pressures, clients can co-mingle cleared inflation swaps with vanilla swaps via the triReduce compression tool.
"Increasing balance sheet pressures and growing resource constraints have seen banks increasingly turn to compression as an effective means of mitigating costs and risks. As a result, it's important that compression services evolve to meet the needs of clients today," Michael Modlock, global head of sales and relationship management at triReduce, commented.
TriOptima added that low touch compression has been adopted by multiple large banks for improved usability, transparency and full automation with API technology. triReduce also provides data validation checks for a more streamlined user experience.
"With clearing of inflation swaps up over 55% year-to-date compared to the same period in 2018 across 200 users, we're seeing strong demand continue for compression services," said Cameron Goh, global head of product for rates at LCH. "Compression is a crucial tool in driving efficiency for the cleared market. The ability to compress inflation swaps is of particular significance for members and clients who are looking to boost operational and capital efficiency."
In January, TriOptima compressed the first batch of cross-currency swap trades in LCH's non-cleared derivatives clearing service, SwapAgent. LCH said at the time that €4.5 billion in notional of trades were successfully compressed in TriOptima's multilateral USD/EUR cross-currency swap compression cycle via its triReduce service.