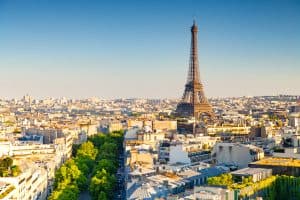 US futures broker RJ O'Brien has expanded its senior leadership with several new hires in Europe, shortly after establishing a new business in France.
RJ O'Brien said in a statement that following preliminary approval from authorities in France, Simon Prangnell will head up its operations in Paris as managing director of France, and the firm will begin executing orders as soon as it receives final regulatory clearance.
Prangnell joins RJ O'Brien from Coex Partners, an independent agency brokerage which was acquired by TP ICAP in 2017, where he was formerly a managing partner. He has spent 23 years of his 34-year career overseeing large derivatives operations out of Paris, and has also held senior roles at Cantor Fitzgerald, Newedge and HSBC.  
"Simon is ideally suited for this role, enabling us to build our new European office with a great team that will only grow from here. He is that rare leader who can effectively manage a significant operation while also taking on a brokerage role and servicing clients directly," said RJ O'Brien chairman and CEO, Gerald Corcoran.
Prangnell also commented that the broker's emphasis on futures was a big draw for him in accepting the senior position, as it has been a core focus of his career. He added that the Paris franchise has a great opportunity to build out its team and offering.
"We will leverage not only on RJO's leadership in agricultural commodities – which is a valuable asset to the large agricultural industry here – but the full breadth of financial futures and options products we offer," Prangnell said. "RJO has made significant investments in the latest technology, which will allow us to offer efficient and comprehensive coverage to the sizable asset management community here."
RJ O'Brien has also hired Martin Marchant as an institutional broker in the Paris office, alongside Jérôme Jourquin, who joined the business in March as its first institutional broker and has worked closely with Marchant since 2002. Marchant was a broker in equities early in his career, and then later in futures and options. Similarly, Jourquin has two decades of experience in commodities brokerage.
"We're excited about the potential of this new offering out of France as a great addition to our established UK operation and look forward to providing the high level of service that RJO clients across the world enjoy," Corcoran concluded.