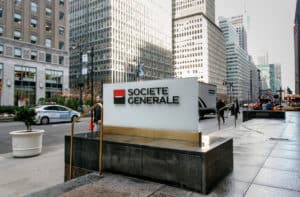 Societe Generale has expanded its current derivatives offering to support trading and clearing in Eurex Group's FX futures.
The move means that Societe Generale can now fully offer clients the ability to trade FX on Eurex Exchange, and Eurex FX clients can also execute bilaterally off-exchange against the French investment bank for large risk transfers or to move between OTC FX and listed FX.
"We are very pleased to add a European exchange to our current FX futures product offering. We look forward to helping clients build and maintain their FX positions at Eurex using our Block futures and EFP capabilities," Chris Callander, UK head of FX futures sales and trading and client facilitation at Societe Generale, said.
Carl Koelzer, CEO of 360T and global head of FX at Deutsche Börse Group, also commented that clients have said a catalyst for increased use of FX futures is off-exchange liquidity to complement the order book proposition, with Societe Generale's trading desk being a primary off-exchange provider in the FX space.
"With clearing enabling important new trading relationships to be formed without the need for bilateral credit or operational agreements, and off-exchange being the bridge between OTC and listed markets, our clients now have choice over how to access our FX Futures liquidity for any given trade," Koelzer added.  
Societe Generale is currently undergoing a major business restructure as the bank aims to drastically reduce costs by €500 million. As part of the restructure, the firm has formed a new business unit, global banking and advisory, which combines its capital markets, advisory and financing services segments.
At the same time, an investment banking division has been formed within global banking advisory, combining mergers and acquisitions, capital markets, acquisition financing activities and sector expertise. Societe Generale said that it has simplified its global banking and investor solutions unit to streamline its markets activities.