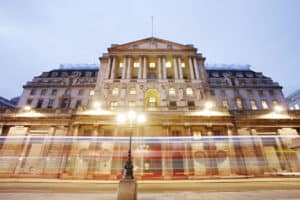 Average daily foreign exchange turnover in the UK fell 16% in April this year, down from the record highs seen in October last, according to the latest statistics from the Bank of England.
The Bank of England's turnover survey, which includes data from 28 financial institutions, found that the average daily UK FX turnover was $2.4 trillion in April 2020.
The figure is down 16% from October 2019's record $2.88 trillion, and 15% from April 2019's $2.86 trillion daily turnover. 
The declines were attributed to the COVID-19 pandemic and were consistent across all instrument types, currency pairs, counterparty types, and execution methods.
The largest decrease was seen in FX swaps and currency swaps where daily turnover volumes reached were down 20% and 37% respectively, to $291 billion and $15 billion. Both FX swaps and currency swaps had seen a record highs in October 2019.
Elsewhere, spot activity declined in April with an average daily turnover of $677 billion, down 10% compared to October 2019. 
All major currency pairs reported falls in average daily turnover since October 2019. Sterling fell most significantly with average daily turnover for USD/GBP and EUR/GBP falling by $138 billion, down 32%, and 31% respectively, to $138 billion and $24.7 billion.
The survey included 28 of the largest market participants in the UK FX market including JP Morgan, Bank of America, Goldman Sachs, Deutsche Bank, Morgan Stanley, Citi, Societe Generale, and Credit Suisse.