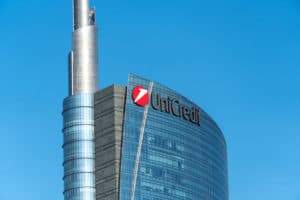 UniCredit and investment manager ACTIAM have signed up to the dealer-to-client electronic central limit order book for interest rate derivatives trading from Trad-X.
Trad-X said that UniCredit has joined the platform as a dealer, and Netherlands-based ACTIAM has joined as a non-dealer. UniCredit will provide two-way pricing to smaller banks and buy-side clients trading Eurex-cleared derivatives.
"Non-dealers are really interested in the CLOB execution process for standardised products," said Philippe Dudon, COO of Trad-X. "Platforms like Trad-X D2C offer direct access to displayed executable liquidity under a mandatory-cleared environment enforced by MiFID II, and this is creating new execution opportunities for non-dealers."
The platform launched earlier this year in January as Trad-X, a subsidiary of Tradition, looked to provide an alternative to the traditional request for quote trading protocols. UniCredit follows existing dealers participating on the electronic CLOB, including JP Morgan, BNP Paribas and Commerzbank, in providing liquidity to non-dealers.
Aegon Asset Management was the first buy-side firm to execute a euro interest rate swap trade on the platform upon its launch, with BNP Paribas acting as the counterparty. The trade was cleared by Eurex Clearing.
The multilateral trading facility (MTF) was designed to replicate the benefits dealers gain from trading through a CLOB model, including real-time and executable pricing, updates on a range of swaps products, tighter spreads and minimal information leakage.
"By using the Trad-X CLOB, we are finding new levels of transparency, certainty and an alternative source of liquidity," added Rick Stassen, treasury and execution at ACTIAM. "It has the potential to give buy-side firms such as ourselves the possibility to become a price maker rather than just a price taker, and therefore improve market quality and efficiency."