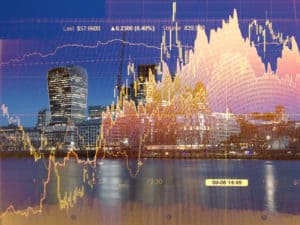 US commercial banks saw their cumulative trading revenue reach $10.6 billion in the first quarter of this year, a jump of 47.8% ($3.4 billion) compared to the previous quarter, according to the latest data released this week from the Washington-based Office of the Comptroller of the Currency (OCC), although just a 0.1% ($10 million) bounce from the first quarter in 2021.  
According to the OCC, the significant quarter-on-quarter jump in Q1 2022 was primarily due to increases in revenue from foreign exchange and credit trading instruments.  
And the picture isn't necessarily as positive as it looks at first glance. Although revenues were up substantially for the quarter, the OCC pointed out that the overall performance of consolidated bank holding companies (BHCs) provides a more complete picture of trading revenue in the banking system than individual bank performance. BHC trading revenue in Q1 hit $15.1 billion, $1.3 billion (9.3%) more than the previous quarter, but down by $12.1 billion (44.5%) from the previous year.  
The OCC's quarterly report on bank trading and derivatives activities is based on call report information provided by all insured US commercial banks and savings associations, reports filed by US financial holding companies, and other published data. A total of 1,291 insured US national and state commercial banks and savings associations reported trading and derivatives activities at the end of the first quarter of 2022. 
The report found that credit exposure from derivatives decreased in the first quarter of 2022 compared with the fourth quarter of 2021. Net current credit exposure (NCCE) decreased by $49 billion, or 13.8%, to $307.0 billion. However, derivative notional amounts increased by $22.9 trillion, or 12.9%, to $200.4 trillion. 
Derivative contracts remained concentrated in interest rate products, which totalled $145.9 trillion or 72.8% of total derivative notional amounts. However, central clearing is growing in popularity compared to bilateral, possibly due to the drive towards minimising counterparty risk – centrally cleared derivatives transactions increased by 43.4% over the quarter.  
Notably, just four large banks currently hold 89% of the total banking industry notional amount of derivatives.