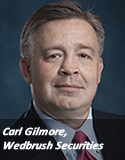 Wedbush Securities has completed its acquisition of KCG Holding's futures execution and clearing business as it looks to expand in the exchange-traded derivatives space.
The acquisition of KCG Futures was agreed earlier this year as Wedbush set its sights on growing its futures, FX and cross-asset class margining, clearing, execution and custody capabilities.
It is anticipated that existing KCG staff will continue their current roles, and Carl Gilmore, now co-head of Webush's futures division, highlighted some of the benefits of the deal.
"I believe our clients will be glad to learn about how they can benefit from Wedbush's expanded offering of products and services including the execution, custody and clearing of securities, and should feel free to contact their Wedbush representative to discuss these and other products and services," he said.
The futures commission merchant (FCM) business in the US has seen a lot of consolidation over the past few years with numbers dropping from hundreds to around 60 at present.
Despite losing the division, KCG maintained earlier this year that it will still engage in futures market making and will also focus on agency execution and trading venues.
Knight Capital acquired KCG Futures, then named Penson Financial Services, in May 2012 from Penson Worldwide.