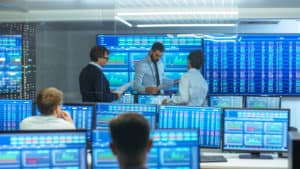 Institutional foreign exchange trading platform provider BidFX has launched a trading desktop application that will support the layout of multiple screens for traders via the operating system (OS) OpenFin.
BidFX will now offer a desktop-installed web application supporting the layout of window-based components that interoperate across a trader's multi-screen workstation via OpenFin.
The FinTech provider said that new working conditions brought on by the pandemic meant that demand to trade securely from anywhere was high.
"The latest web and cloud technology offers improved flexibility over traditional fat-client applications when developing world-class user interfaces, resulting in faster time to market for new features. Alongside this, the market is now asking for that extra layer of development and functional maturity that continues to build confidence in trading over the cloud," said BidFX chief executive, Jen-Philippe Malé.
"BidFX's history and vision are built upon being a leader in technological advancements in the FX electronic trading world. Building on OpenFin enables us to continue to invest in creating a rich multi-window FX trading experience that combines the best attributes of the desktop and web applications." 
This initiative has addressed institutional traders' concerns over cloud adoption, web browser compatibility, internet security, and screen space limitations, said BidFX in a statement.
"Having a digital desktop strategy has become increasingly important in supporting remote working practices, especially as many traders have moved from six screens to two or three," added OpenFin chief executive Adam Toms.
"More than ever, they need to be able to link applications seamlessly across multi-screen workstations and have access to the right workflow tools while minimising the screen real estate they consume. We are delighted to welcome BidFX to our ecosystem of users and look forward to our collaboration."
In June, the Singapore Exchange (SGX) confirmed it had made plans to fully acquire BidFX from TradingScreen for $128 million.