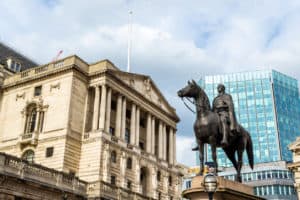 The governor of the Bank of England, Andrew Bailey, has warned that tensions between the UK and the EU will escalate quickly if the EU forces euro-derivatives clearing out of the UK.
Speaking to the Treasury Committee this week, Bailey said that following Brexit the UK was at risk of losing all euro-derivatives clearing if the EU attempts to force banks to move their clearing to the bloc.
Last year, the European Commission granted UK-based clearing houses an 18-month temporary equivalence following Brexit, however, Brussels made it clear that this period should be used by market participants to reduce their exposure to UK-based CCPs.
In his speech, Bailey highlighted how the consequence of no further equivalence decisions at the end of the 18-month period would mean that a quarter of euro-derivatives clearing would move from the UK to the EU.
This 25% chunk of euro-derivatives clearing is not a "viable" amount for the EU to process, Bailey explained to MPs.
"The reason is, particularly in an activity like clearing where the efficiency really comes from having a very big pool of derivatives that can be netted and cleared down, by splitting that pool up the whole process becomes less efficient and having the smaller part of the pool would be even less efficient," he said.
"The clearinghouses also involve a certain level of cross currency netting to go on and that would break down as well."
To obtain the remaining three-quarters of total euro-denominated derivatives activity, Bailey said the EU could potentially "force or cajole banks and dealers to say there will be some other penalty unless you move this clearing activity into the EU."
This, he warned, would create "a very serious escalation of the issue" and was something that the UK should "resist very firmly."
The speech is the second condemnation of the EU made by Bailey recently after he criticised Brussels and made the case for an open global economy and financial markets system during a speech at Mansion House in London earlier this month.