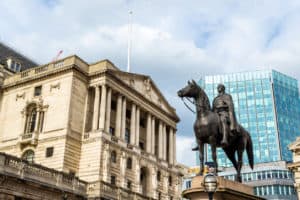 The head of the Bank of England has condemned the EU's approach and failure to reach an agreement with the UK on equivalence post-Brexit.
Andrew Bailey, governor of the Bank of England, made the case for an open global economy and financial markets system during a speech at Mansion House in London.
Highlighting that the UK had granted equivalence to the EU in some areas prior to the end of the Brexit transition period which the EU failed to reciprocate, Bailey stated the EU has held the UK to higher standards than all other countries.
"As is well known, the post-Brexit equivalence process between the UK and EU has not been straightforward," Bailey said. "The UK has granted equivalence to the EU in some areas, but the EU has not done likewise to the UK.
"It would be reasonable to think that a common framework of global standards combined with the common basis of the rules – since the UK transposed EU rules from the outset – would be enough to base equivalence on global standards. Less than this was enough when Canada, the US, Australia, Hong Kong and Brazil were all deemed equivalent."
Bailey continued that conditions under which the EU granted US central clearing counterparties (CCPs) equivalence more recently are already met by UK CCPs, but an extension of the time-limited clearing agreement with the UK remains unclear.
Failure for the EU and UK to reach an equivalence agreement post-Brexit has been controversial, especially as the Brexit transition ended at the start of this year. The UK offered concessions with an EU equivalence decision and a less restrictive approach to its share trading obligation in November. Both moves were not reciprocated by the EU.
Brexit has had an overarching impact on markets as the UK's market share in European trading plummeted in January while trading venues in the EU gained significant share.
"We have an opportunity to move forward and rebuild our economies, post-COVID 19 supported by our financial systems. Now is not the time to have a regional argument," Bailey concluded.