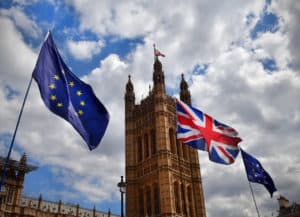 UK-based trading venues saw market share in European share trading drop to just 2.5% following the UK's departure from the EU, a report from Liquidnet has revealed.
In the first two weeks of trading in 2021, UK venues market share in European STO (share trading obligation) stocks fell from 16% pre-Brexit to 2.5% post-Brexit when looking at both addressable and non-addressable liquidity.
The activity was absorbed by EMEA based trading venues, which saw market share increase from 37% to 48.5%, and off-exchange and systematic internalisers, which saw an increase of 3% to 49%.
Lit primary venues' market share remained steady for EU STO stocks when looking at addressable and non-addressable liquidity, according to the report, with 33.2% market share pre-Brexit compared to 32.77% post-Brexit.
"While the dislocation of EU liquidity seems unlikely to reverse given the investment trading venues have made in setting up platforms in the EU, European regulators still anticipated a shift in EU lit primary exchanges," said Liquidnet.   
The report added the industry will also likely see dark liquidity "re-gravitating back to London" as the UK looks to champion alternative pools of liquidity to attract non-EU activity. The UK's Financial Conduct Authority (FCA) recently lowered the LIS threshold for EU-listed stocks to €15,000 making dark trading more attractive and less restrictive.
The move followed various changes to the EU's STO, which eventually stated that EU-listed stocks that trade in pound sterling would be able to trade on UK venues. Less than 50 EU-listed stocks fall under the criteria, accounting for less than 1% of EU total trading activity.
"Alongside the FCA's regulatory update lowering the LIS threshold for stocks with the primary listing in the EU to just €15,000, the UK is widely anticipated to shortly grant Switzerland equivalence," said Liquidnet. "With UK and US firms able to execute on UK and Swiss venues under lower LIS thresholds, European concerns that they could be placed at a disadvantage are likely reinforced."
A combination of these circumstances could lead to a change of heart from the European Union as to whether it will grant the UK equivalence, the report added.