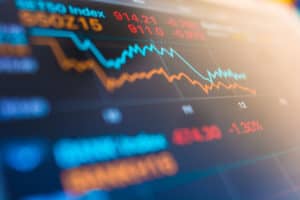 Corporate bond data pooling network Glimpse Markets will now pay the buy-side for data in a revamp of its operating model as 15 asset managers confirm their support for the start-up.
Speaking to The TRADE, founder of Glimpse Markets, Paul O'Brien, said that the bond data network's model has evolved from being free for the buy-side to one that now pays clients a 'data dividend' for the information that they contribute, based on the number of trades and total volume.
Glimpse aims to increase the buy-side's control of their data and bring transparency to the market with its 'democratic and distributed' data sharing platform. The buy-side has historically had little control over the data they generate, which is often expensive and accessible to those who can afford to pay for it from a small number of large vendors.
"I believe our model is unique, disruptive and a compelling proposition for the buy-side as it compensates them for the data they generate," O'Brien said. "The current market model is broken and clients are ready to embrace something new that addresses the balance of power."
Also commenting on the new model as one of the first supporters of Glimpse, Eric Heleine, head of trading desk and overlay management at Groupama Asset Management, said the challenge for initiatives like Glimpse is getting a critical mass of asset managers to the table, but the updated commercial model should remove barriers to entry for membership.
"Buy-side control is key to growing the network and enriching the dataset and Glimpse enables us to collectively define the governance structure and policies to ensure data quality and responsible, transparent data usage," Heleine added. "Implementing best practices for data sharing will allow the network to scale and will create new standards for how the buy-side manage and use their data."
Firms now supporting Glimpse include Allianz Global Investors, Bluebay Asset Management, Carmignac, Cowen, Exoé, Federated Hermes, First Sentier Investors, Groupama Asset Management, Invesco, Jupiter Asset Management, Liontrust Asset Management, Natixis TradEx Solutions, NN Investment Partners, Quoniam Asset Management and Union Investment, among others.
"Glimpse is offering something very different from what is currently out there and enabling the buy-side to rightly control and benefit from the data they generate," said Christoph Hock, head of multi-asset trading at Union Investment. "Union Investment supports Glimpse in its goals of reducing data costs and bringing more transparency to less liquid markets."
Another key aim for the data start-up is to replicate the TRACE system in the US, which provides near real-time bond price information to investors, for traders in Europe. A fixed income consolidated tape has been long-sought by European bond traders, but with an equities tape yet to be established, it seems an unlikely development any time soon.
"Originally, we looked at Glimpse as a pure price aggregator and alternative to a wholesale consolidated tape, but their early analytics show that much more can be derived from a very simple set of core data," Eric Boess, global head of trading at Allianz Global Investors, told The TRADE. "One of the characteristics that stand out is Glimpse's buy-side focussed model which clearly differentiates it from most currently existing offerings and puts it in a unique space."
O'Brien, who is a fixed income product expert with previous experience in senior positions at bond trading platform MTS and Algomi, added that Glimpse is now in the legal process with a number of firms for onboarding and is assembling its buy-side founder member group and advisory board. He hopes to launch the data platform by the end of this year, depending on timing for legal progress.
Earlier this year, former European sales head at Tradeweb, Mike Thorpe, joined Glimpse as a senior sales advisor from bond analytics platform Mosaic Smart Data where he had been head of sales. The hire followed a series of roundtables with the buy-side hosted by Glimpse as it finalised the new commercial model.
"We are very excited about this initiative and I would encourage all our peers to get behind it. Glimpse is innovative and will finally bring much needed transparency to the market participants that need it most. In doing so, it will address the information asymmetry that final investors have suffered for far too long," Oscar Kenessey, head of trading for fixed income, derivatives and currencies at NN Investment Partners, concluded.