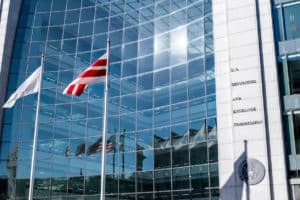 The US trading watchdog has confirmed the appointment of a new acting director of the division of trading and markets.
David Saltiel takes on the new role at the Securities and Exchange Commission (SEC), replacing Christian Sabella, who concluded his tenure at the agency on 2 June.
Saltiel joined the SEC in 2016 and since then has been head of the office of analytics and research in the division of trading and markets. Prior to joining the SEC, Saltiel acted as chief economist at the Municipal Securities Rulemaking Board.
The news of this appointment follows the recent approval of former investment banker Gary Gensler as chairman of the SEC. Gensler previously worked in several regulatory roles, including chairman of the US derivatives trading regulator.
"I look forward to continuing to work with David and thank him for lending his knowledge and experience as acting director," said Gensler. "I thank Christian for his dedication and service to the SEC over the last 10 years."
Since the beginning of 2021, Sabella worked as both acting director and deputy director for the SEC's division of trading and markets.
During his time at SEC, Sabella held various roles on the trading and markets staff, including as a branch chief in the office of derivatives policy and trading practices, a senior special adviser to several trading and markets directors, and as associate director for the division's office of clearance and settlement.