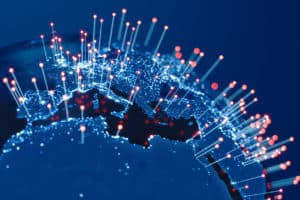 Traders have found a comfort zone in the amount of transactions they execute algorithmically, according to historic data from The TRADE's Algorithmic Trading Survey.
A new report on the buy-side's perspective of algo trading, which analysed historic data spanning the past 10 years from 2011 to 2020, suggested that traders have found a middle ground in their algo usage.
The research showed the number of buy-side firms that execute less than 20% of trades algorithmically, declined from 26% in 2017 to just 17% in 2020. Similarly, the number of firms executing 80% or more of their trades algorithmically declined from 21% to just 13% over the three-year period. 
Results in 2020 revealed that 55% of buy-side firms currently execute between 40% and 80% of their total trading notional value through algorithms, while a majority of 34% of investment firms execute between 40% and 60% of trades using algos.
"Just as the buy-side gains familiarity with algo strategies, traders continue to develop a better understanding of when to 'work' orders," the report, produced in partnership with consultancy Aite Group, said. "For instance, certain environments, especially during highly volatile market conditions such as those of the COVID-19 pandemic, necessitate a higher-touch approach or more traditional means to achieve optimal trading results."
Elsewhere, the report revealed that 32% of surveyed funds indicated they have appetite to make use of additional algorithmic trading providers in the next 12 months, with around one in five managers reporting interest in adding algos from their most used providers.
"The confidence of existing providers to deliver on expectations depends highly on relationships and the trust that buy-side firms have with their sell-side counterparts to provide cutting-edge solutions and to perform to expectations," the research outlined. 
The findings are based on data collected as part of The TRADE's Algorithmic Trading Survey, which has remained a staple of the capital markets industry since 2008.
 "The Buy-Side Perspective of Algorithmic Trading, 2020: Amid the Chaos" research report, co-produced with Aite Group, is available to purchase here. This year's hedge fund and long-only results of The TRADE's Algorithmic Trading Survey are also available to view online.