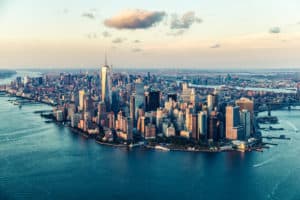 New York-based foreign exchange novation platform provider Capitolis has secured $90 million in a Series C funding round from the likes of JP Morgan, Citi, and State Street.
Its latest funding round was led by venture capital firm Andreessen Horowitz and took Capitolis' total funding to date to $170 million.
The major financial institutions were joined by other existing investors Index Ventures, Sequoia Capital, S Capital, Spark Capital, and SVB Capital in the funding round.
"At Citi, we have been impressed with Capitolis' technology platform and their thoughtful, strategic approach to fostering a more efficient marketplace," said Okan Pekin, global head of securities services at Citi."We feel the opportunity in front of them is significant and there is a long runway for growth."
The software at Capitolis improves liquidity in the capital markets by giving banks the opportunity to source capital needed for trades from other financial institutions with large balance sheets. Founded in 2017, has eliminated $5 trillion in overall positions for more than 50 financial institutions since its launch.

JP Morgan, Citi, and State Street initially invested in Capitolis in October last year in a bid to help drive the industry adoption of its technology solutions.
Swiftly after the investment in October, Capitolis confirmed it had set out plans to double its headcount from 50 to around 90 by the end of 2020.
To kick off the expansion the firm made three senior new hires off the bat, appointing Evelina Rosenstein, Alex Dubost, and Petra Wikstrom to join the platform as sales manager, business development director in the firm's London office, and business development executive for buy-side Americas, respectively.
"The market has spoken. Capitolis is building the financial system of the future," said Tom Glocer, co-founder and executive chairman of Capitolis.
"With advanced technology, a talented team, a focus on operational excellence and the continued support of our trusted partners, I look forward to our ongoing progress."