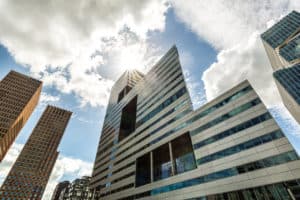 Cboe Global Markets has selected a new chief technology officer and a senior vice president for international finance from within its own ranks to support its plans for expansion.
Tim Lipscomb, has been promoted to senior vice president and chief technology officer, while Stephanie Renner has been selected to assume the role of senior vice president, international finance.
Lipscomb, who currently serves as chief operating officer of Cboe Europe, will oversee Cboe's technology strategy, innovation and integration efforts globally in his new role, including Cboe's exchange, data and clearing platforms.
He originally joined Cboe in 2019, bringing over 20 years' experience in financial markets technology to the company having previously served at Merrill Lynch for two decades.
Renner, current chief financial officer of Cboe Europe, will oversee all of Cboe's non-US finance functions in her new role, responsible for the company's Canadian, European and Asia Pacific financial operations, planning, analysis and reporting.
She originally joined Cboe as assistant controller in 2013, from BATS Global Markets – now part of Cboe – where she had been for five years.
Lipscomb and Renner's appointments follow a string of senior leadership changes in recent months which reflect Cboe's ongoing global expansion including CME executive Nigel Jeyakumar who joined Cboe as director of EMEA sales for the company's data and access solutions division and Stephan Berte who was appointed as president of Cboe's BIDS Trading unit, effective 4 April 2022, joining from Tourmaline Partners.
Elsewhere, in another series of promotions, David Howson will become president of the firm effective 12 May 2022; Ade Cordell promoted to president, Asia Pacific; and Natan Tiefenbrun appointed as president, Europe.
"Our recent acquisitions and strategic initiatives have put into place the pieces to execute on Cboe's powerful global vision, and through these recent leadership changes, we will continue to position ourselves for growth and expansion globally," said Brian Schell, executive vice president, chief financial officer and treasurer.