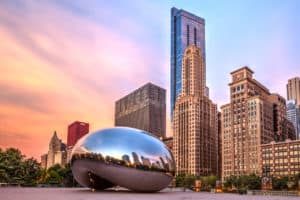 Cboe Global Markets has confirmed it will reopen its Options Exchange (C1) trading floor in Chicago after being forced to shut it down due to the coronavirus pandemic.
The exchange said C1 will reopen on 8 June, but with a number of precautions to protect staff and reduce the spread of the virus. Health and safety protocols that have already been implemented include social distance protocols, limited movement on the floor, and medical screenings at entry points of the building.
Cboe stated it expects around 50% of the trading floor staff to return on the 8 June as the trading floor reopens, and after the implementation of the new standards of conduct in conjunction to Covid-19.
"Since the temporary closure of our floor, the Cboe team has worked tirelessly to provide electronic solutions to replicate the benefits of floor trading. As a result, our markets continued to function well and allowed investors to express their views and manage risk throughout this period of extreme market conditions," said Ed Tilly, CEO of Cboe Global Markets.
"Still, customers have awaited a return to hybrid trading at Cboe and all of the unique benefits it provides. We look forward to satisfying that demand and welcoming back our trading floor community."
Following the decision to close its open outcry trading floor in Chicago 16 March, Cboe's C1 trading activities have been available electronically, following quick approval from the US Securities and Exchange Commission (SEC) for the move at the height of the crisis.
The move followed similar actions taken by the New York Stock Exchange (NYSE), which also confirmed it will partially reopen its American options and equities trading floors. Both trading floors will resume trading activity on 26 May, NYSE said, but will function at reduced capacity due to health and safety precautions.