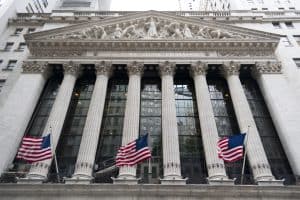 The New York Stock Exchange (NYSE) will soon begin to partially reopen its American options and equities trading floors, after being forced to close them due to the global coronavirus pandemic.
Both trading floors will resume trading activity on 26 May, NYSE said, but they will function with a reduced headcount as part of health and safety precautions.
NYSE staff re-joining the trading floors will also have to abide by new safety protocols, including wearing face masks and adhering to social distancing protocols, and compile with New York City and State health orders.
NYSE's equities trading floor will reopen to a small number of floor brokers supporting floor order types, including 'D Orders'. At the same time, Designated Market Makers will continue to operate remotely. Member firms have also been encouraged to discuss capabilities and plans with floor brokers ahead of the partial reopening.
Earlier this month, NYSE's Arca Options trading floor in San Francisco was reopened but with a limited number of brokers. At the height of the coronavirus crisis on 23 March, NYSE made the decision to temporarily close its equities and options trading floors to combat the spread of the virus, after two people had tested positive.
CME Group was one of the first major exchanges to close a trading floor when it suspended trading from its Chicago floor. Cboe followed shortly after by suspending its open outcry trading floor in Chicago.