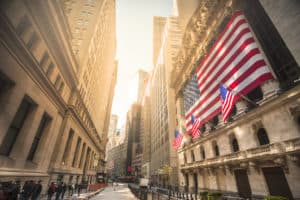 The New York Stock Exchange (NYSE) has confirmed it will go fully electronic from 23 March, following the temporary closure of its equities and options trading floors to combat the spread of coronavirus.
The global exchange group has launched its business continuity plan and will start electronic trading at the market open on Monday, but NYSE  reaffirmed that trading and regulatory oversight of its listed securities will continue without interruption.
The closed trading floors include the equities and American options floors in New York, and the Arca options floor in San Francisco. Open outcry trading will also be suspended with the closure of the options trading floor, and floor broker order types will be unavailable for equities. 
"NYSE's trading floors provide unique value to issuers and investors, but our markets are fully capable of operating in an all-electronic fashion to serve all participants, and we will proceed in that manner until we can re-open our trading floors to our members," said Stacey Cunningham, president of the NYSE.
CME Group was one of the first major exchanges to close a trading floor when it suspended trading from its Chicago floor. Cboe followed shortly after by suspending its open outcry trading floor in Chicago.
"We continue to firmly believe the markets should remain open and accessible to investors. All NYSE markets will continue to operate under normal trading hours despite the closure of the trading floors," added Cunningham.
The comments were made after US Treasury Secretary Steven Mnuchin met with exchanges to discuss shortening trading hours to balance out volatility brought on by the coronavirus pandemic. However, exchanges have opposed the proposed move asserting the importance of keeping the markets open during times of extreme volatility.