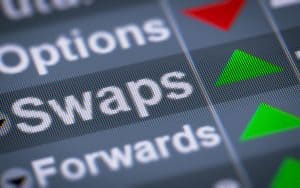 The head of the US derivatives watchdog has put forward plans for a major regulatory reform of cross-border swaps trading, after admitting the regulator's current approach is over-expansive, complex and impractical.
Christopher Giancarlo, chairman of the US Commodity Futures Trading Commission (CFTC), told delegates at an event in London this week that he will put forward an updated and improved vision for cross-border swaps regulation.
At the same time, he slammed the CFTC's current swaps regulatory framework, stating that it had driven global market participants away from transacting with firms that are subject to the rules, and caused fragmentation in a market that was once considered global.
"To start by putting it bluntly, the CFTC's current approach to applying its swaps rules to cross-border activities has resulted in a number of problems," Giancarlo said. "It is over-expansive, unduly complex, and operationally impractical."
He then outlined several principles that will be used to inform a revision of the CFTC's swaps rules for cross-border activities, with the key distinction being that the regulator's new approach is designed to mitigate systemic risk and swaps reforms that address market structure and practices.
Giancarlo has long-been a critic of swaps rules that were implemented in 2013 under Dodd-Frank to bring more transparency and accountability to the regulation of over the counter (OTC) swaps trading.
Research from Greenwich Associates has suggested that looser swaps trading rules could in fact boost volumes by up to 20%. However, Kevin McPartland, head of research for Greenwich market structure and technology and author of the research, warned that regulators must be wary that looser rules could erode price transparency that has been gained over recent years.
The CFTC chairman also reiterated that the watchdog should act as a "rule maker, not a rule taker", in overseeing US markets. Giancarlo has openly criticised the EU's continued attempts to enforce stricter rules on non-EU central counterparties (CCPs) in the past as being detrimental to US derivatives markets.
However, the CFTC and the European Commission made some progress after agreeing on a common approach to trading derivatives on electronic platforms. The agreement means that European traders can execute a swap on either an EU-authorised trading venue or a CFTC-authorised swap execution facility (SEF).
Giancarlo added that those agreements would stay in place with the EU, and a similar approach would be taken to other jurisdictions with comparable regulatory requirements for swaps CCPs and trading venues.
"It is time for a more thoughtful approach to the cross-border application of US swaps rules based on effective systemic risk mitigation and deference to comparable overseas regulation…  I know there are some who fear an uncertain future.  I think the future can be an improvement, much better," Giancarlo concluded.