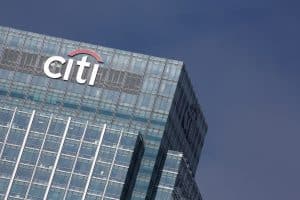 Citigroup could face a fine of $1.2 million after the market regulator in Japan recommended the penalty be handed to the US investment bank for alleged spoofing activity in the futures market.
Japan's Securities and Exchange Surveillance Commission (SESC) is pursuing the penalty from Citi after informing the Financial Services Agency (FSA) that the bank's global markets business in the UK had allegedly manipulated certain derivatives contracts. The regulator stated that Citigroup should pay the amount of YEN133,370,000, or $1.2 million, following an in-depth investigation.
In a statement sent to The TRADE, Citigroup said: "Citi takes the recommendation seriously and apologises for any inconvenience or concern the conduct that gave rise to today's recommendation may have caused. Citi will place the utmost priority on further enhancing governance and internal control to comply with the financial regulations and directives."
According to the SESC's investigation, an employee at Citigroup's Global Markets business in the UK placed various buy and sell orders for 10-year Japanese Government Bond (JGB) futures without the intention of executing. This illegal tactic is known in the market as spoofing. 
"These transactions constituted a series of Market Transactions of Derivatives and offers that would mislead other investors into believing that Market Transactions of Derivatives were thriving and would cause fluctuations in the market of 10-year JGB Futures," the SESC alleged in its statement on the investigation.
Major financial institutions globally, including Deutsche Bank, HSBC and UBS have been handed penalties for spoofing futures markets in the US. In 2017, Citi was fined $25 million by US authorities for spoofing orders in the US treasury and swaps market after exchange group CME inquired about suspicious trades.