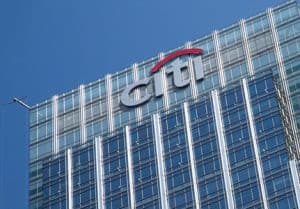 Citi is expanding its futures, clearing and collateral (FCC) electronic execution and algorithmic trading teams with two new hires from Goldman Sachs.
Gordon Ball is joining Citi as head of electronic execution and algorithmic trading for the business in Europe, the Middle East and Africa (EMEA), tasked with developing the FCC algorithmic trading agenda.
Ball has spent the past 18 years at Goldman Sachs in various senior roles including head of European equities electronic trading product development, head of listed derivatives execution and clearing product development, and most recently as an electronic execution strategist.
At Citi, Ball will be based in London and report into Sabrina Wilson, global head of electronic and algorithmic trading and EMEA head of FCC.
Alongside Ball, Max Middleton is joining Citi's FCC electronic sales team in EMEA in London. He also joins from Goldman Sachs where he was formerly an executive director within the futures and listed options electronic trading group for eight years.
Middleton will contribute to the growth of Citi's FCC franchise in Europe, focusing on the electronic client acquisition strategy and expanding integrated electronic solutions to the bank's clients.
Furthermore, Joseph Michniowski who joined Citi in 2015 and recently led the equities quant trading analytics globally, has been promoted to head of electronic execution and algorithmic trading for FCC in Asia Pacific.
He will be based in Hong Kong, reporting to Wilson and APAC head of FICC, Ian Neilson. In his new role, Michniowski will assist Citi in the development of its India strategy providing local coverage to its electronic client base in the region.
Citi stated that as momentum continues to build on its FCC platform, the bank will continue to attract top talent in the industry.