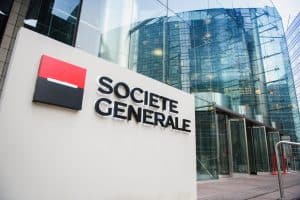 French investment bank Societe Generale is expecting to pay a €1.1 billion penalty to settle claims following an investigation by several major US authorities.
Societe Generale said in a statement that the fine is related to US dollar transactions it processed with countries that are subject to US economic sanctions.
The bank has now entered a phase of more active discussions with the US authorities, it added, with a view to reaching a resolution within the next few weeks.
Authorities involved in the extensive investigation include the Office of Foreign Assets Control of the US Department of the Treasury, the Board of Governors of the Federal Reserve System and the Federal Reserve Bank of New York, the New York State Department of Financial Services and others.
Societe Generale has set aside €1.43 billion to settle the dispute and cover legal costs, in accordance with the International Financial Reporting Standards.
"At this stage, Societe Generale expects that the amount of the penalties in the US sanctions matter will be almost entirely covered by the provision for disputes allocated to this matter," the statement said.
In June, Societe Generale was fined $475 million by the US Commodity Futures and Trading Commission for manipulation of Libor and Euribor benchmarks.
An investigation found that the investment bank's manipulation spanned six years, from 2006 to 2012. The authority said that Societe Generale continued to engage in misconduct and make false reports despite knowing that its Libor and Euribor submissions were being investigated.