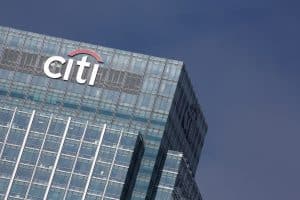 Citi asserted its dominance in cleared swaps market during the second quarter the year, in a space where activity remains is heavily concentrated with the top five clearing banks.
Citi's client cleared swaps margin stood at over $28 billion in the second quarter of the year, according to data collected by Clarus Financial Technology (Clarus FT), representing 27% of the total amount of margin posted for the US swaps market.
Between the first and second quarter alone, Citi increased its client cleared swaps margin by nearly 8%, outpacing its other US rivals.
Citi is followed by Morgan Stanley which held a 16% market share of $17 billion, and JP Morgan with a 14% share and $14 billion of margin, according to the Clarus FT data.
The top five swaps dealers collectively held just over three quarters of the cleared swaps market, and the top seven held a market share of 90%.
Citi has fast emerged as one of the most active cleared swaps dealers in both the US and Europe, and has demonstrated a long-term commitment to its clearing business around the world as some of its competitors, including Deutsche Bank, have exited the business.
It was the first futures commission merchant (FCM) to clear a swaps transaction for end clients domiciled in the US on Eurex Clearing in February this year, enabling the Frankfurt-based clearing house to expand its US distribution base. Citi also cleared the first FX cash-settled forward, on behalf of Eaton Vance Management, with CME Group in January.
Most recently, Citi combined its equities division with the prime, futures and securities services (PFSS) business, as it looks to provide a full coverage of trading, electronic execution, financing, clearing, custody and fund services all under one house.