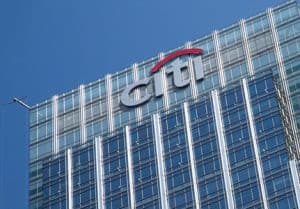 Citi is set to merge its equities, prime brokerage and securities services businesses into a new division, as it looks to combat increased industry and client pressures.
According to an internal memo seen by The TRADE's sister publication Global Custodian, Citi will combine the equities and prime, futures and securities services (PFSS) businesses in a bid to provide a full coverage of trading, electronic execution, financing, clearing, custody and fund services all under one house.
The new division, named equities and securities services (ESS), will be jointly led by Dan Keegan and Murray Roos, Citi's co-head of equities, and Okan Pekin, global head of prime, futures and securities services.
"As the industry continues to consolidate and margin pressures intensify, clients are looking for solutions that deliver best-in-class services, which Citi is well positioned to provide," said Carey Lathrop and Andy Morton, Citi's co-heads of markets, in the memo. "Consistent with this evolution, we believe that now is the time to create an integrated offering supporting the pre-trade, execution and post-trade requirements of our clients."
The management team will include the current global product, sales, structure, operations, technology and HR heads whose roles remain unchanged, as well as the four regional heads.
Meanwhile, Chris Glauner will become the global chief operating officer for ESS, Cedric Pauwels will lead North America, Chris Cox will manage EMEA, Ricardo Hesse will run Latin America, and Julia Riskin will head APAC. In addition to his role co-leading the new ESS divisions, Keegan will also become head of markets and securities services for North America, the memo added.
The new division is the latest in a string of restructuring moves in recent months as Citi looks to streamline its businesses to meet the changing needs of its clients, specifically its hedge fund clients.
Last month, the bank combined its FX and local markets and G10 currencies businesses into one unit. At the end of 2018, it also brought its FX prime brokerage business into its prime financing and securities services business after it suffered $180 million loss related to a risky FX bet from an Asian-based hedge fund client.
A number of banks have tied their equities and prime brokerage divisions together, including Barclays, Credit Suisse, JP Morgan, Morgan Stanley and Nomura, among others.
However, Deutsche Bank has failed to overcome both its structural and industry-related pressures, and is undertaking one of the biggest overhauls to its equities and prime brokerage division by cutting 18,000 jobs and selling the prime business to BNP Paribas.