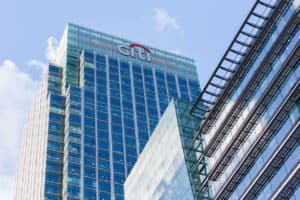 US investment bank Citi has promoted two of its executives to co-lead its futures, OTC clearing, and prime brokerage (FCX) department, according to an internal memo seen by The TRADE.
Chris Perkins and Sabrina Wilson will be jointly responsible for growing Citi's client franchise in FCX, articulating a new risk framework, focusing on increasing electronic distribution, and optimising Citi's capital footprint.
Wilson, who joined Citi in 2017 as European head of FCX and global head of FCX electronic execution, brings with her nearly 20 years of industry experience to the role.
Prior to Citi, she held various senior clearing positions across sales and product development at several major players including JP Morgan, Goldman Sachs, and Deutsche Bank.
Perkins has been with Citi since 2008 and founded the firm's global OTC clearing business. In 2018, he took responsibility for Citi's global FX prime brokerage and led its integration into FCX.
Before his 12 years with Citi, Perkins oversaw the derivatives intermediation business at the infamous victim of the 2008 global financial crisis, Lehman Brothers.
The FCX team at Citi will report to Perkins and Wilson who in turn will report directly to Okan Pekin, global head of prime, futures, and securities services at Citi.
The moves follow the retirement of derivatives industry veteran Jerome Kemp who departed after nine years with Citi, drawing his 36-year career to a close.
Kemp retired from Citi after first joining the investment bank in 2011 as global head of futures and clearing where he built out the OTC clearing platform, driving the business from a low mid-tier position to the top three leadership during his tenure.
Meanwhile, there have been shake-ups in the bank's equities business and eTrading team this year, with the latter reported by The TRADE yesterday.
The investment bank confirmed it had appointed Allegra Kawalerski to head up its New York eTrading desk and become a principal stakeholder manager.