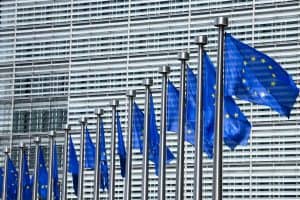 CME Group's fixed income business BrokerTec saw a record average daily notional volume (ADNV) of €301 billion in EU repo in the second quarter of this year. 
Alongside the record ADNV for EU repo, the BrokerTec Quote dealer-to-client request for quote trading platform, which launched for US repo in October, also saw a record ADNV of $5.3 billion in the same period.
"Euro repo, and sterling repo, saw another strong month in June, with the 4th highest ADV on record since launch but a little slower from the all-time record high in May 2021 at €318bn but with five of the top record ADV months occurring in 2021 on EU repo," said John Edwards, global head of BrokerTec at CME Group.
"We continue to see strong organic growth across the repo markets, with increased demand for secured forms of funding and financing."
The EU repo market was heavily impacted by the pandemic, according to research compiled by International Capital Markets Association in April last year.
The research found that demand for repo during the first peak of the pandemic had risen significantly as brokers sought to gain access to cash and high-grade collateral but that dealers' capacity to meet that demand was constrained.
It also found that smaller banks reduced their repo footprint dramatically while some larger-sized banks increased their balances during the crisis. 
CME Group has been in the process of transferring BrokerTec onto its Globex platform, completing the migration of its US treasury benchmark trading and repo and EU government bond and repo markets platforms in February earlier this year.