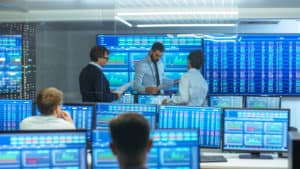 US derivatives exchange CME Group has confirmed it will not reopen its physical open outcry trading pits following their closure last March due to restrictions imposed by the COVID-19 pandemic.
All open outcry pits will remain closed permanently, except for the Eurodollar options pit which opened in August last year, meaning these contracts can continue to be traded in both open outcry and electronic venues.
Alongside plans to close the trading pits, the derivatives exchange also said it will delist its full-size floor-based S&P 500 futures and options contracts following their expiration on 17 September, subject to regulatory review.
Any open interest remaining after the delisting will be migrated to its E-mini version of the contracts which can be traded electronically on the exchange's Globex platform. 
CME has been gradually increasing its mini offering in recent weeks, in the build-up to this announcement.
In March, it confirmed plans to launch micro Bitcoin futures, which successfully went live on 3 May. CME stated at the time that the smaller contracts would offer traders the opportunity to hedge their spot Bitcoin price risk or execute Bitcoin trading strategies using a contract that still had similar features to standard Bitcoin futures.
The development at CME comes as market participants begin to see the long-term effects of remote working conditions imposed by the pandemic in 2020.
In a report by Greenwich Associates in November, the research firm predicted that only a small minority of traders were expected to return to the trading desk in a post-pandemic world as many firms had seen a highly successful adjustment to working from home.