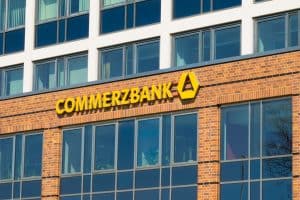 Commerzbank has instantaneously replicated an FX forward using blockchain in a trade with German industrial group, thyssenKrupp.
The successful use of blockchain eliminated the need for transaction reconciliation between the two parties because the trade was stored as a single immutable record.
Commerzbank and thyssenKrupp's FX forward deal was a EUR/PLNFX trade which amounted to €500,000 with a one month tenor using FX Live Trader, Commerzbank's FX trading platform.
The deal confirmation was sent to thyssenKrupp directly via CORDA, a distributed ledger designed for finance by the R3 blockchain consortium.
"Reconciliation is a major issue for banks when trading FX," said Nikolaus Giesbert, divisional board member, fixed income, currencies, commodities and trade finance and cash management at Commerzbank.
"Significant resources are dedicated to resolving the issues that occur during the matching process. This deal demonstrates how the use of distributed ledger can transform and digitalise the processes in this space."
Both firms added that in the future the use of FX post trade confirmation and matching through blockchain could also offer significant benefits in the form of a more streamlined FX transaction process and a real time confirmation.
"The comprehensive insight into the blockchain process clearly shows how to connect market participants in the future in a highly secure and efficient manner while reducing transaction costs by avoiding external software solutions," Thomas Empelmann, head of corporate finance at thyssenKrupp, commented.
"The simplified process with maximum transparency reduces the hurdles for financial integration and allows us to rethink existing processes."